School Visits Grade 3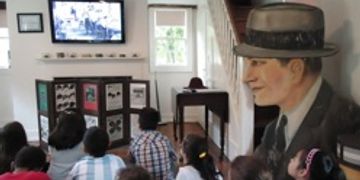 Then and Now: Museum staff will visit Danbury Public Schools with a multimedia presentation that features vintage photographs of Danbury to introduce our rich history to third grade students.

Field Trip Fun: Danbury Public School students visit the museum to tour the four historic buildings on our Main Street campus. Tours are led by living history experts who bring Danbury's unique story to life. For the afternoon session, groups can experience Danbury's Museum in the Streets program by taking a walk through our Downtown Historic District followed by a visit to the Danbury Railway Museum or the Still River Greenway.